Gold Cam Oy has been offering CAD/CAM training since 2000 using Pro/Engineer program, which is currently known as Creo Parametric.
Since 2007 we have also been training Vertex G4 mechanical design program via Vertex Systems Oy.
Training is provided at Gold Cam office in Hämeenlinna or at a customer site. Online training is also available.
We use Gold Cam's Creo-series books in our training. There are a number of books available for Creo-programs available through Klaava Media.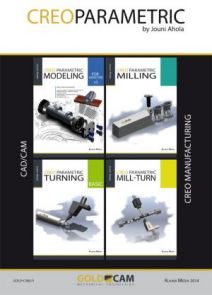 Creo Parametric
Modeling, Milling, Basic Turning, Mill-Turn